In line with International Food Day on 16th October 2021, we at CARE2u would like to celebrate it by providing you with delicious recipes!! We have a total of 4 written recipes that do not have a video reference and 2 recipes with video reference. Moreover, we have 1 video for all who are interested in knowing how to cook Lily's Homemade sausages and burger patty. The link for all the videos will be provided below with written instructions.
Let's start cooking.....!!
We start the month with a video on western dinner cooked ONLY using a turbo roaster. The full blog/ article for this is provided in the link below, do check it out as we have 3 cheesy recipes for all you cheese lovers out there!
https://www.care2u.net/blogs/recipe/western-dinner-using-only-turbo-roaster
Next, we have a special chicken recipe for those who love sweets and savory chicken.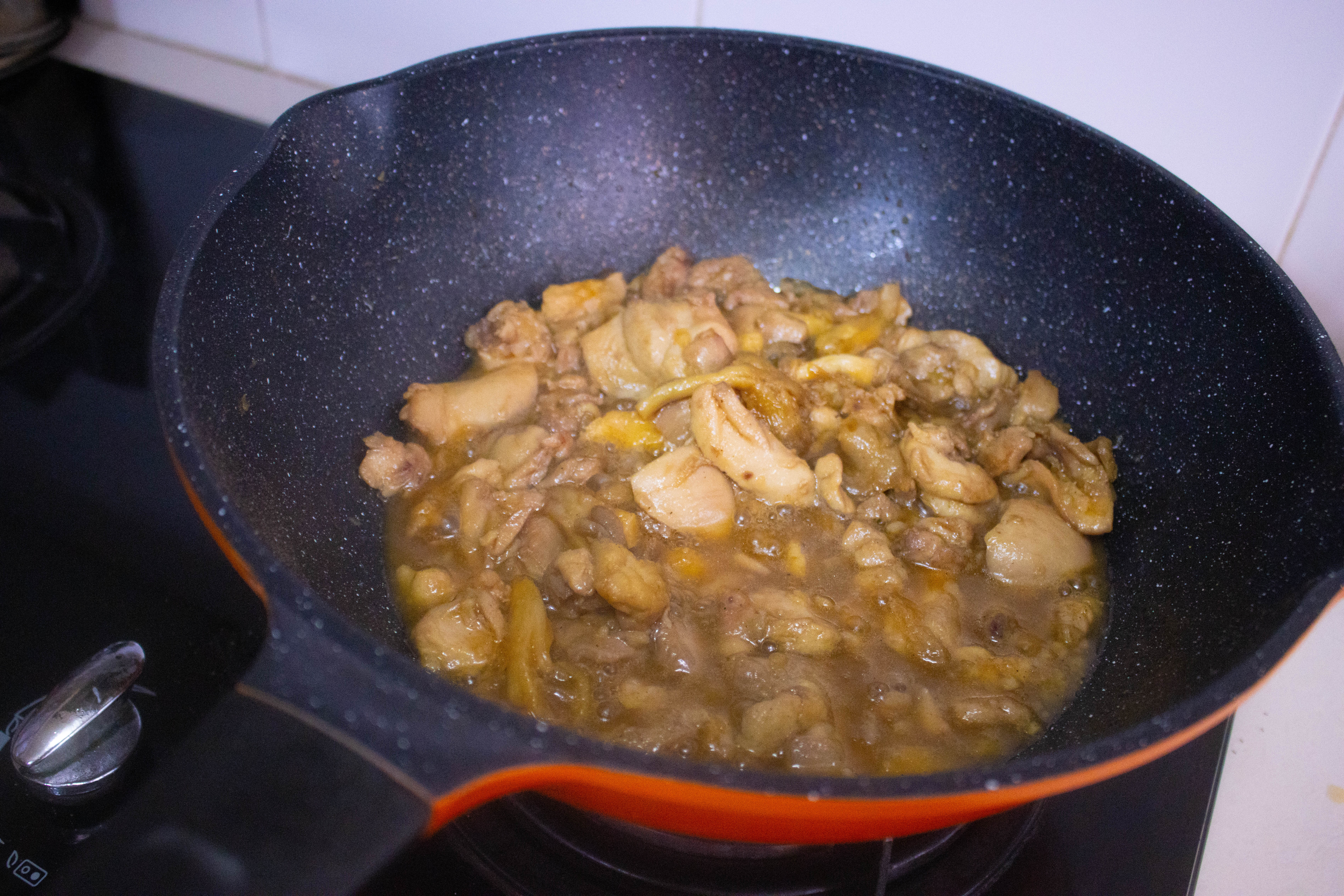 Honey Garlic Chicken
What do you need?
5-6 Chicken Thighs cut into pieces
A couple of pinch of salt & pepper
2 teaspoon garlic powder
6 cloves, crushed
⅔ cup of honey
¼ cup of water
1 tablespoon of soy sauce
1. Defrost and de-bone the chicken if it has not been done.
2. Season the chicken with salt, pepper, and garlic powder and set it aside.
3. Heat a pan or wok over a medium-high heat
4. Pour the chicken into the wok and sear the chicken till it is golden or cooked through.
5. When chicken is done and cooked through, add the garlic between the chicken and fry until fragrant for about 30 seconds
6. Then, add honey and water and soy sauce, one after another as you fry the chicken
7. Once all the ingredients have been added, increase the heat of the wok and continue to cook it the sauce reduce down or thicken slightly (about 3-4 mins)
8. Garnish with parsley (to make your meal instagramable) and serve it over vegetable/ rice/ pasta or salad.
Now, we continue the month with some delicious Jam recipes. The First 2 recipes are Orange Marmalade Chicken and Bread Rolled. The link for the full recipe can be found in the link below, the YouTube video is also available in that blog/ article post. Do check it out....:
https://www.care2u.net/blogs/recipe/recipe-using-jam
The following jam recipe is not strictly a jam recipe, but if we follow it accordingly... Jam is used as both decoration and dipping for the meal. We enjoyed creating this meal as it is a craving that we could not enjoy during the pandemic.
.

Swedish Meatball (IKEA STYLE)- Halal Version
Ingredients (Meatballs):
500g beef mince
250g chicken mince
1 onion finely chopped
1 clove of garlic (crushed or minced)
100g breadcrumbs
1 egg
5 tablespoons whole milk
generous salt and pepper
1. Combine beef and chicken mince and mix with your fingers to break up any lumps.
2. Add finely chopped onion, garlic, breadcrumbs, egg, and mix.
3. Add milk and season well with salt and pepper.
4. Shape the mixture into small, round balls. Place on a clean plate, cover, and store them in the fridge for 2 hours.
(this helps hold their shape whilst cooking)
5. In a frying pan, heat oil medium heat. When it's hot, gently add the meatballs and cook till brown on all sides.
Optional: When it has turned brown, add to an ovenproof dish and cover it. Place it in a hot oven (180-degree celsius conventional or 160-degree celsius fan) and cook for further 30 minutes.
Ingredients (Cream Sauce):
dash of oil
40g butter
40g plain flour
150ml vegetable stock
150ml beef stock
2 tsp soy sauce
150ml thick double cream
1 tsp Dijon mustard
1. Met 40g of butter in a pan. Then, whisk in 40g of plain flour and stir it for 2 mins.
2. Then, add 150ml vegetable stock and beef stock respectively, and continue stirring.
3. Add 150ml of double cream, 2 teaspoons of soy sauce, and 1 teaspoon of Dijon mustard.
4. Next, bring it to simmer and allow the sauce to thicken.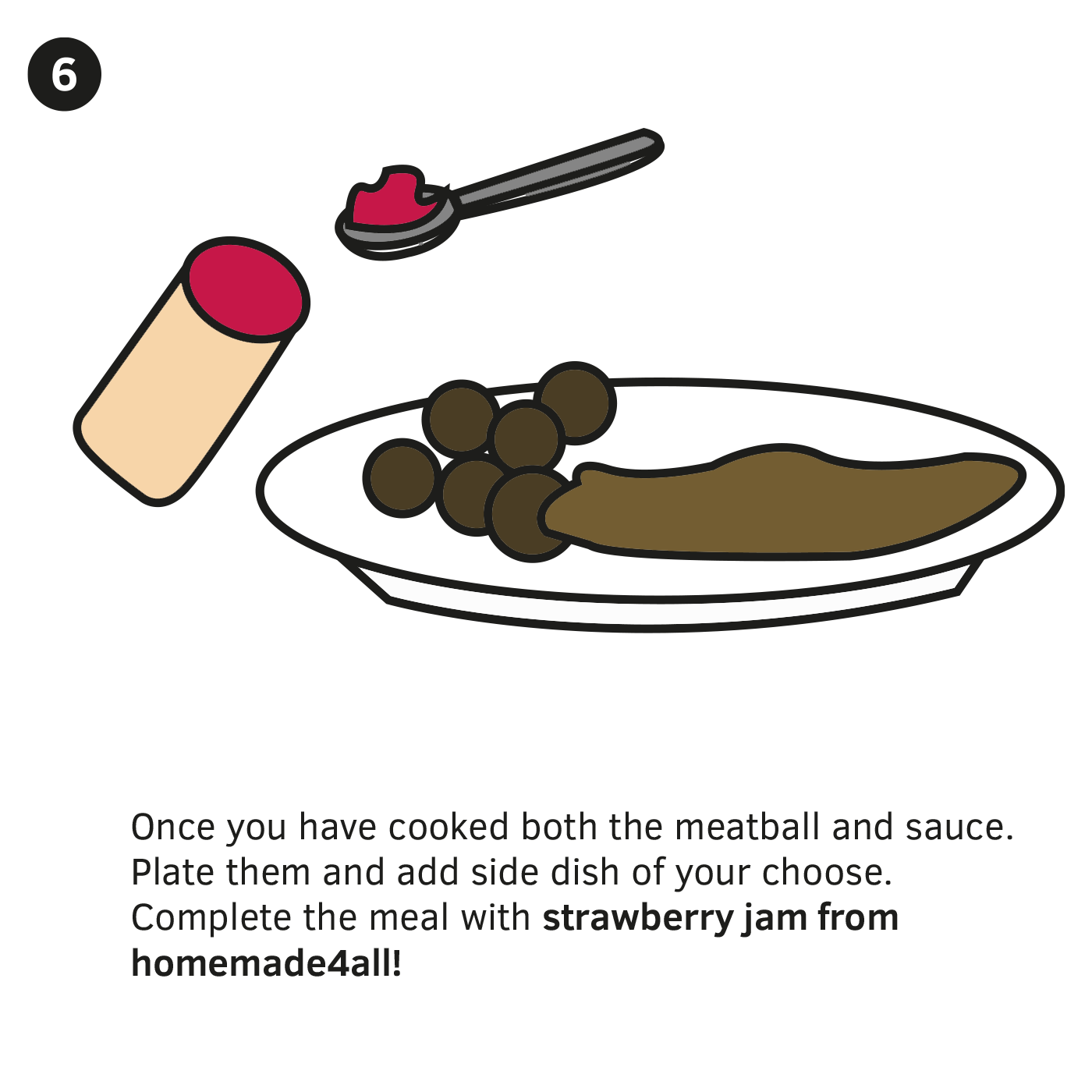 To buy the homemade4all jam... Click HERE!!
The following recipe is something some of you may love to know especially during this season where we may have a loved one going in and out of the hospital. We did a video with this recipe previously but using, but this round, we will be giving you step by step on how to make this without a pressure cooker.
If you are interested to view the video on the pressure cooker, click here to head to our YouTube video. We do our best to provide educational or cooking or a video relating to our product on our YouTube channel every month. So, subscribe and be the first to view our videos!!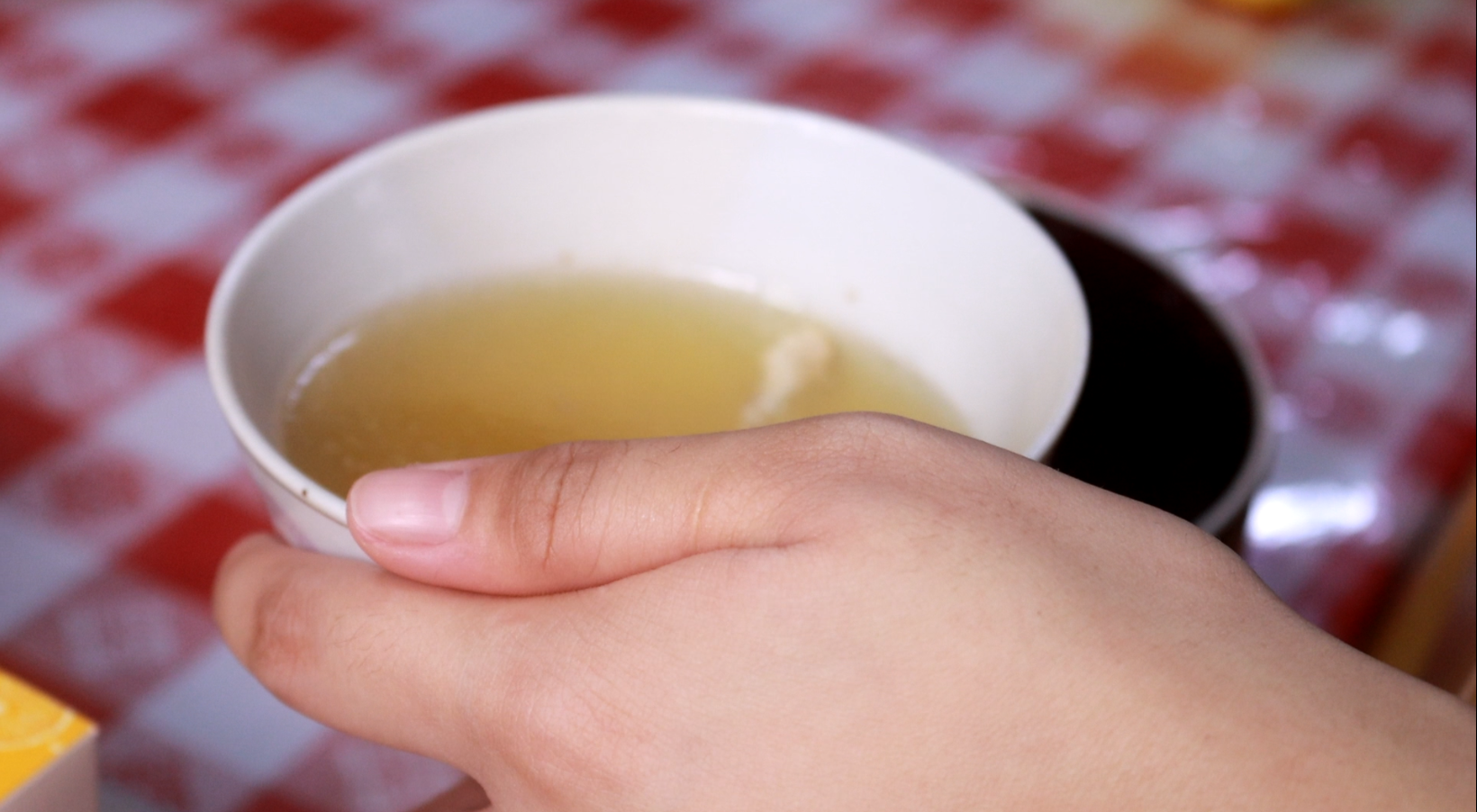 Chicken Essence without Pressure Cooker
What you need:
We are using Beacon Chicken. This chicken are special as they are not fed with corn or grain, but seaweed. This chicken is specially good for cancer patients and is distributed by Beacon Hospital. Do get some today!!
https://care2u.net/collections/beacon-organic-raw-chicken
What you need?
1 whole chicken
(The chicken used in the video is our very own beacon chicken, which you can click the link to watch can be found here)
1. Defrost the chicken
2. Remove all the skin from the chicken
3. Use a mallet to flatten the chicken
4. Boil a pot of water
5. Place the flattened chicken on the back of a bowl. Sit this bowl on a another bigger bowl and place them into the pot of slowly boiling water. The chicken essence will drip onto the bigger bowl. Steam for 4 hours.
Note: Make sure to use a large deep plate for to place the chicken.
6. After 4hours. Pour the chicken essence into a bowl...
7. Throw the chicken as all essence have been removed
8. Place a flat plate on the bottom of the bowl. Make sure to hold the bottom firmly before flipping the bowl
9. Your chicken essence is ready to be drank.
Prefer watching step by step via a video? Check out the link below for Chicken Essence recipe video on YouTube:
Next, have you ever heard the term "Umami 旨味"? This is a Japanese term which described as savory and is characteristic of broths and cooked meats. This word is normally associated with MSG or salt. For he following images, the meal have been cooked using mushroom seasoning as replacement of salt. This is a slightly healthier alternative to MSG and salt, yet keeping the "umami" flavoring of the dish. Of course, there are some who would still prefer some salt added to their meal to further enhance it without overdosing the meal with salt.
So what is the benefit of mushroom seasoning?
Not only does it enhance flavor to your dish, using mushroom seasoning actually provides many benefits.

Made of Ingredients Known as Superfood- B vitamins, minerals and essential amino acids to make your body healthy.

Highly Nutritious -low in fat and contain high concentrations of vitamin D, B6, B9 and B12, and minerals.

Provides Numerous Health Benefits- to control blood sugar levels and reduce inflammation within the body.

Best Replacement for MSG (as mentioned above )

Suitable for Vegetarians- Great for its meaty flavor in vegetarian dishes.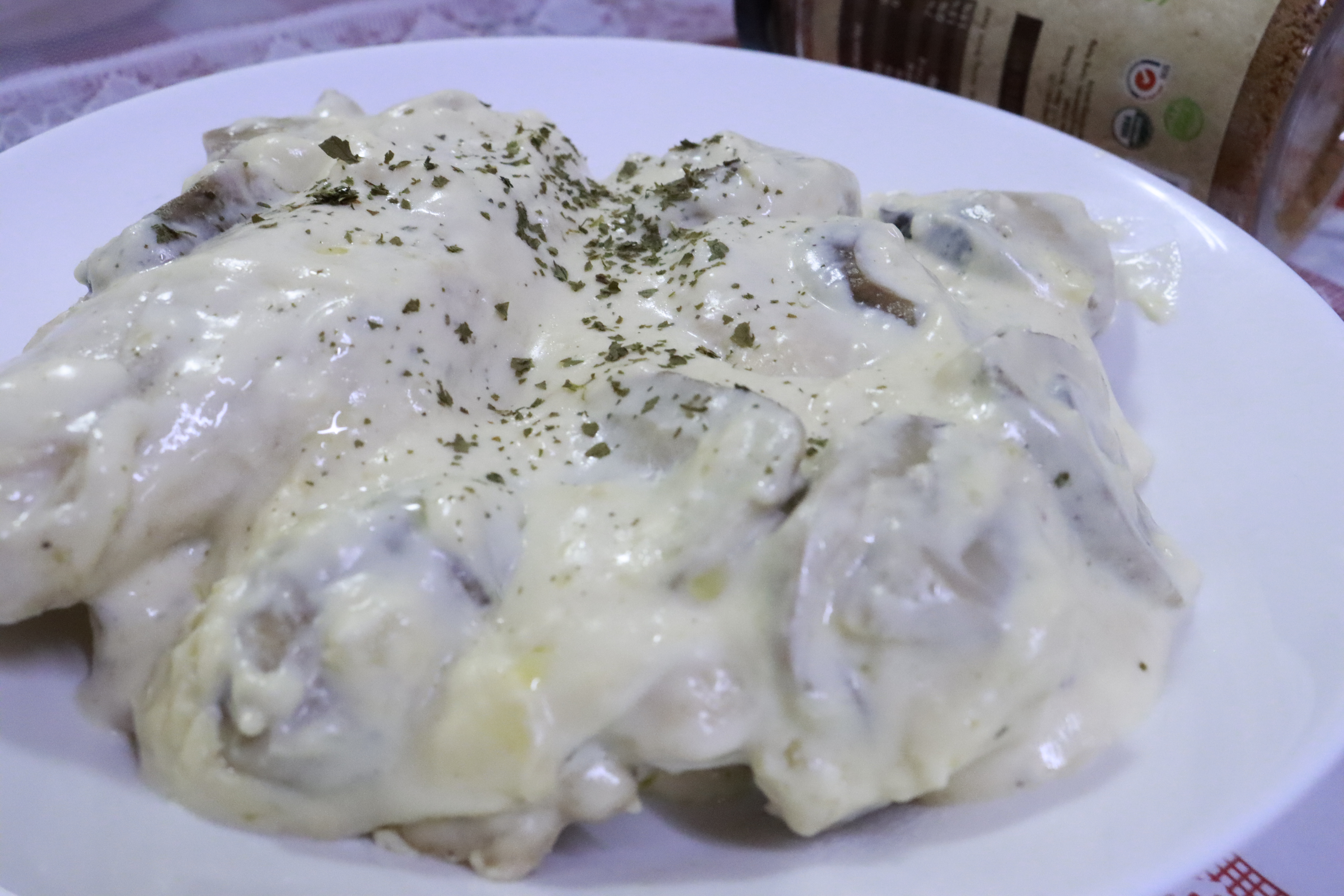 Creamy Chicken Mushroom
what you need?
2 tablespoons of olive oil- divided
600g of chicken breast- boneless and skinless
3 cloves of garlic- crushed/ minced
200g of button mushrooms- halved
1 1/4 cup of milk
1/2 cornscratch
1/2 teaspoon of mushroom seasoning (and more for seasoning the chicken)
1/4 pepper (and more for seasoning the chicken)
100g of cream cheese- softened
1 teaspoon of parsley for garnishing
1. Season the chicken with mushroom seasoning and pepper
2. Heat 1 teaspoon of olive oil in a wok over medium to high heat.
3. Add chicken breast and cook until each side is golden brown (or thoroughly cooked), about 5 minutes per side. Once done, plate them on a clean plate and cover them to keep warm.
4. Heat the remaining 1 tablespoon of oil and add mushrooms into the wok. Cook till it slightly golden brown and add garlic, sauté till fragrant.
5. Meanwhile, in a small bowl, whisk cornstarch with 2 teaspoons of water till fully dissolved. Then, pour milk and corn starch into the wok and sauté.it.
6. Season with mushroom seasoning and pepper, cook till sauce starts to bubble. Stir in the cream cheese and whisk well, till sauce is smooth and thickened.
7. Gently pour the cooked chicken into the wok and spoon the sauce over the heated sauce.
8. Optional: pour in finely chopped parsley leaves for further flavouring.
9. Plate your meal and garnish with finely chopped parsley and serve warm.
We continue this Food-tober by offering you a variety of way to eat your acar. Acar or Achar is a South Asian pickle. It is a pickled food, native to the Indian subcontinent, made from a variety of vegetables and fruits, preserved in brine, vinegar, or edible oils along with various Indian spices. The South African version usually accompanied with chili mixed into the acar.
If you like to purchase the Acar used in this recipes, do refer to the link below:
https://care2u.net/products/chili-ikan-kurau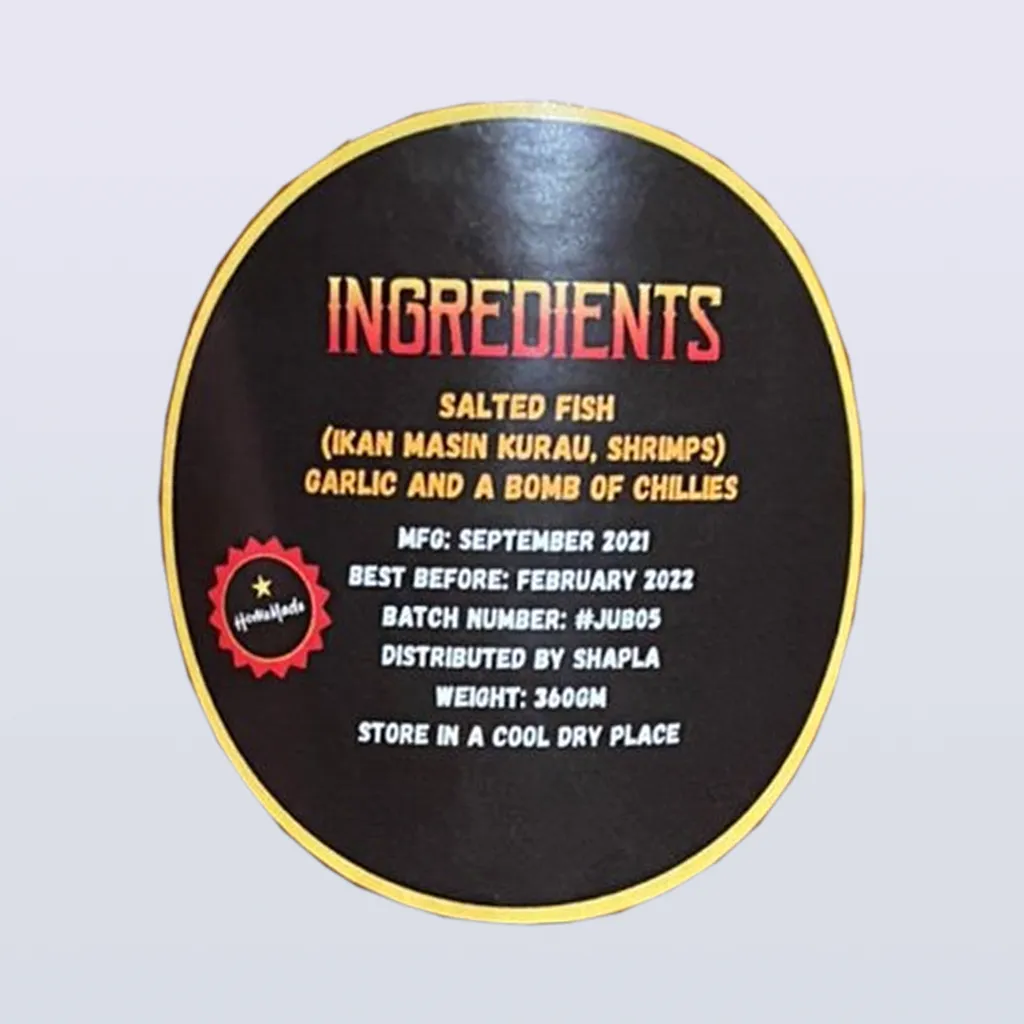 For those who are allergy to seafood or shrimp, do take note that this acar have shrimps. As seen in the image above which state the ingredients, it is written in malay language in the bracket.
We will be presenting an Asian and Western meal, both using "Acar" as one of it's main ingredient!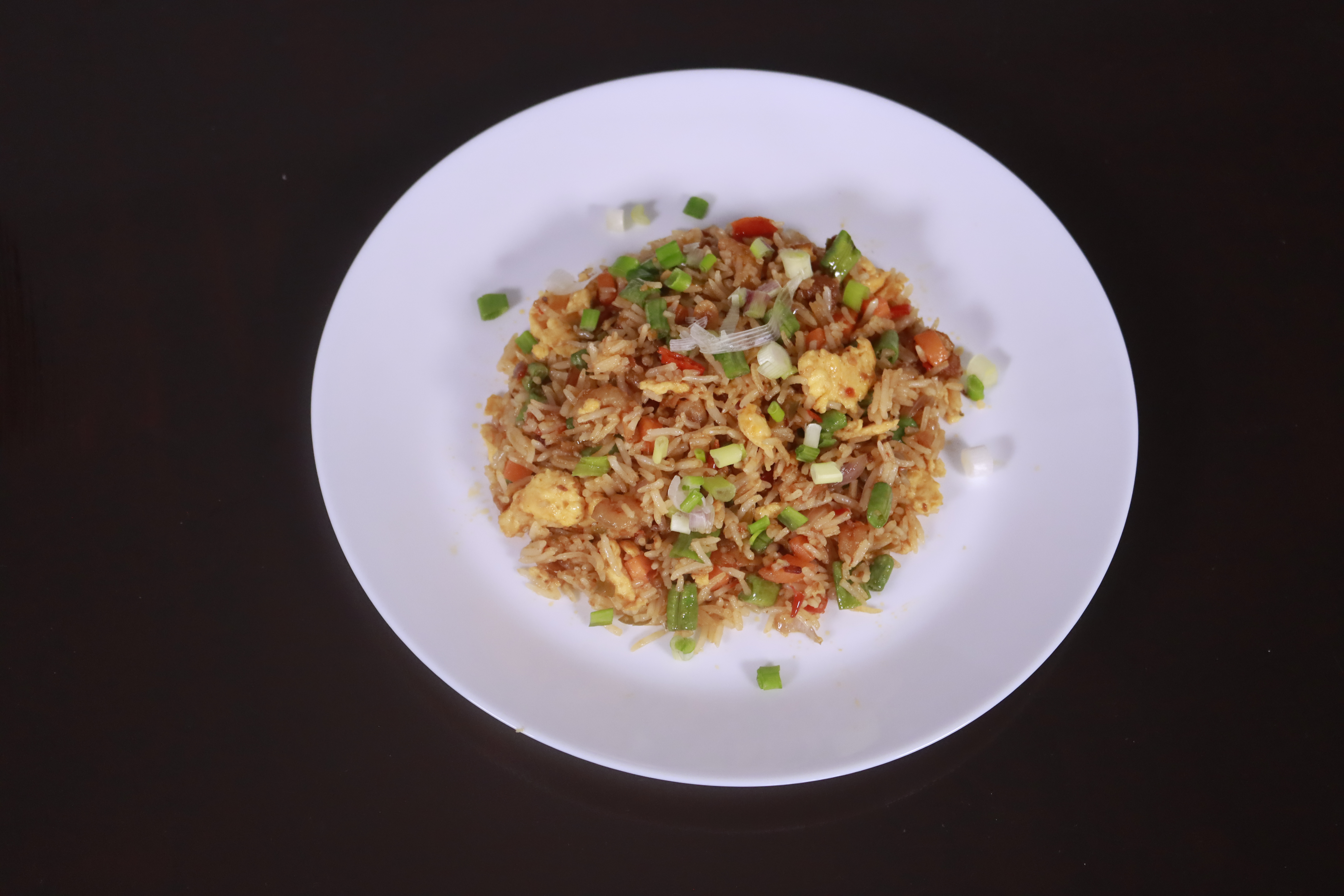 Briyani Firecracker Fried Rice
What you need?
1/3 Cup of Dried Shrimps (40g)
4 Finely Chopped Chili Padi (If you love spicy food, add more according to your spicy tolerance)
3 Tablespoon of Olive Oil
1 Large Onion (Finely Chopped)
2 Cloves Garlic (Minced)
2 Tablespoon of Acar Kurau & Udang (If you love spicy food, add more according to your spicy tolerance)
1 Small Carrot (Finely Diced)
113g of Green Bean (cut into 1 inch length at diagonal)
4 Cups of Leftover Briyani Rice (Cooked/ Day Old Rice)
2 Large Eggs (Beaten)
Let's Start!
1. (Fry) Scramble the beaten eggs

2. Add Garlic into wok and fry it

3. Then, pour the chopped onion into the wok and continue frying
Note: change stove heat from medium to high heat

4. Add pre-soaked shrimps

5. Add the "Acar Kurau & Udang"
Note: Add more acar at your own risk!

6. Pour in the chopped chili padi and continue frying
Note: add more chili padi at your own risk

7. Add the chopped carrots

8. Add cooled rice and mix well with all the other ingredients

9. Continue to stir u til well mixed

10. add chopped long beans

11. Finally, pour in the pre-cooked scrambled eggs and mix well

12. Plate the "Firecracker Fried Rice"

13. Optional Step: Garnish with spring onions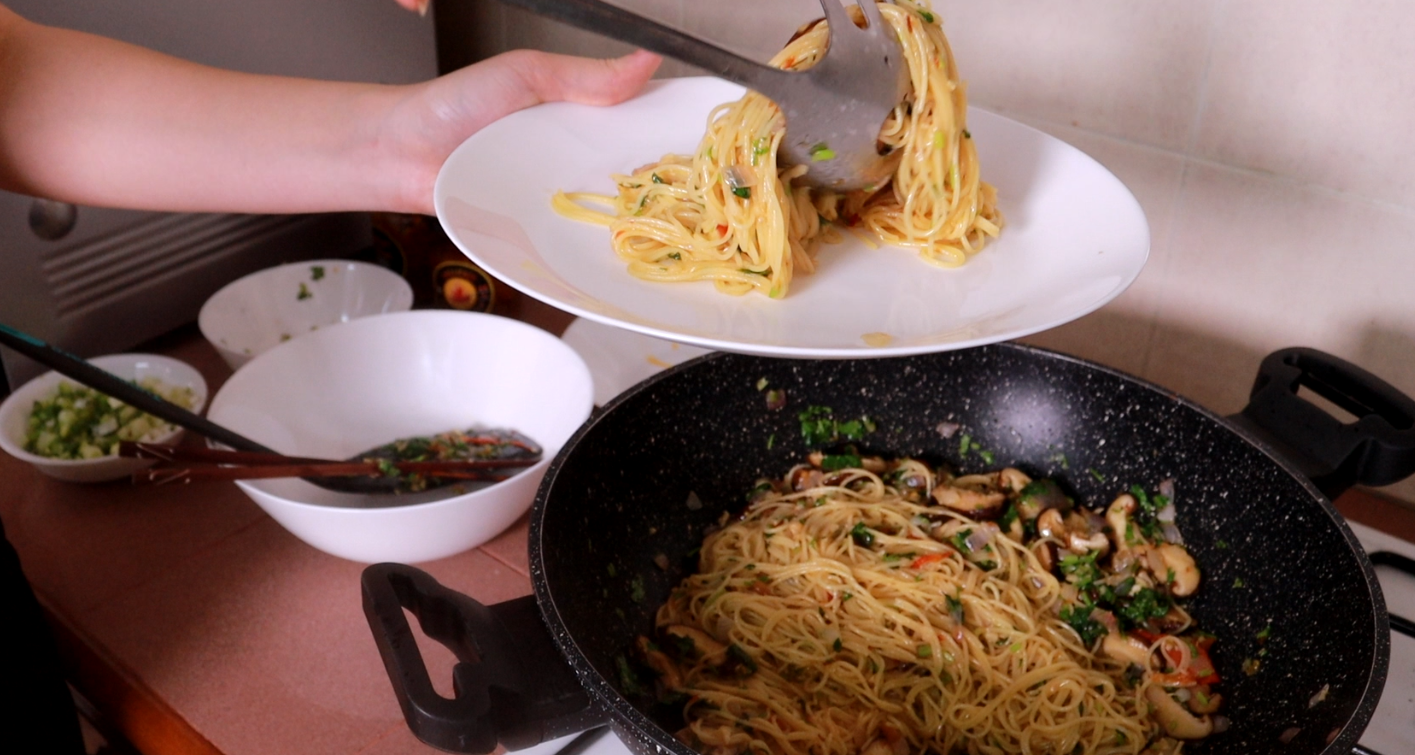 Aglio e Olio
what you need?
1/3 a pack of Spaghetti/ Angel Hair
3 Cloves of Chopped Garlic
1 Fully Chopped Onion
Tomatoes (Sliced to Piece)- According to your preference
Mushroom- According to your preference
1/4 cup of Freshly chopped Parley
Olive Oil for cooking
3 tablespoon of Acar Kurau & Udang
1. Boil a pot of water with a teaspoonful of salt and cook the angel hair for 6 mins. Stirring the pasta all the time
2. In a separate pan, put in 4 tbsp of oil. Low heat. Pour in the chopped garlic and slightly sauté it
Note: Cook on medium heat
3. Immediately Add in the chopped onion and stir
4. Add 3 tablespoonful of Acar Kurau & Udang" and continue to stir till all is mixed well
5. Pour in sliced tomatoes
6. Add in sliced mushroom
7. Add the cooked angel hair into the wok and stir till well mixed
8. Pour in all the chopped fresh parley and mix well
9. Plate your "Aglio Olio" and serve
Lastly, we end the month with showing some recipes to optimize your purchase. When you think of pesto, the first thought usually is pesto pasta or spaghetti, but pesto can be used to as sauce for more than pasta. We can use it for chicken and fish fillets or even vegetables. It is pesto-licious meal for all pesto lover.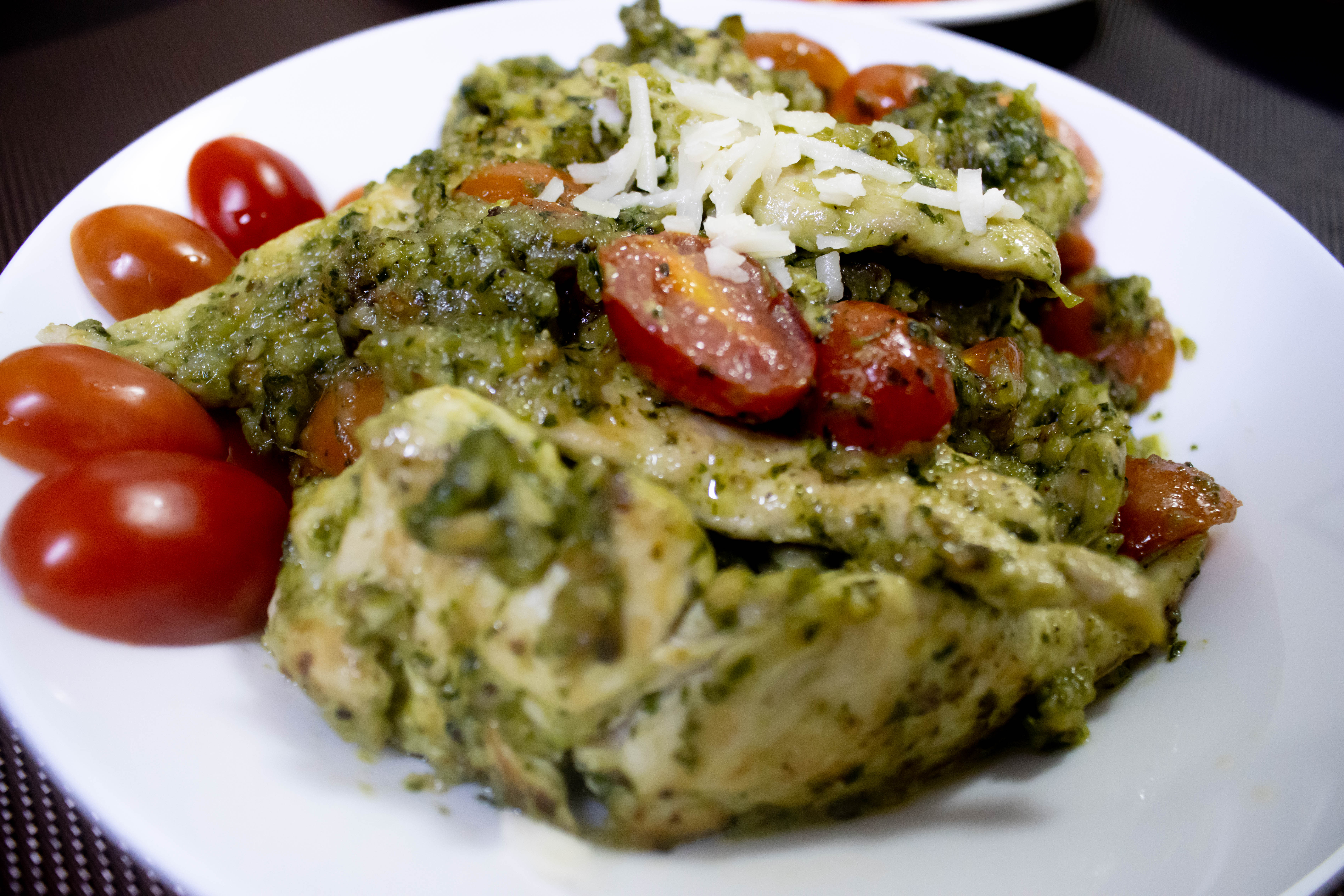 Chicken Pesto Recipe:
What you need?
For Chicken
1 Pound/ 500g of boneless, skinless chicken breast
Salt & pepper (for seasoning)
2 Tablespoon Sauce Lab's Basil Pesto
2 tablespoon Olive Oil
2 Cups of Cherry Tomatoes, Halved (get the smallest pieces)
For Sauce
1 Tablespoon of all-purpose flour
2 cloves of minced garlic
½ tablespoon of Sauce Lab's Basil Pesto
1 Cup of Evaporated Milk/ Condensed Milk
Salt and Pepper (a couple of pinch)
Freshly shaved Parmesan (for garnishing)
Let's Start!
1. Season the chicken with salt and pepper, mix it till season well.
2. Then, rub Basil Pesto on the seasoned chicken.
3. Take a wok/ skillet and heat it with olive oil.
4. Add the chicken to the wok and cook it for 5 minutes on each side, or till it has been thoroughly cooked.
5. For the sauce, mix all the ingredients for the sauce provided above and whisk it thoroughly combined and set it aside.
6. Remove the chicken once it has been cooked onto a clean plate.
7. Use the remaining oil on the wok (if there is none, do add more olive oil), heat and stir the tomatoes. Cook it over medium heat for a minute or till it begins to soften.
8. Add the prepared sauce to the wok and bring it to boil.
9. Once the sauce has boiled, place the chicken back in the wok and cook it for 2-3 mins or till it has been thoroughly heated.
10. Turn off the heat and plate your meal.
11. Garnish your meal with Parmesan cheese and your meal is ready to be served!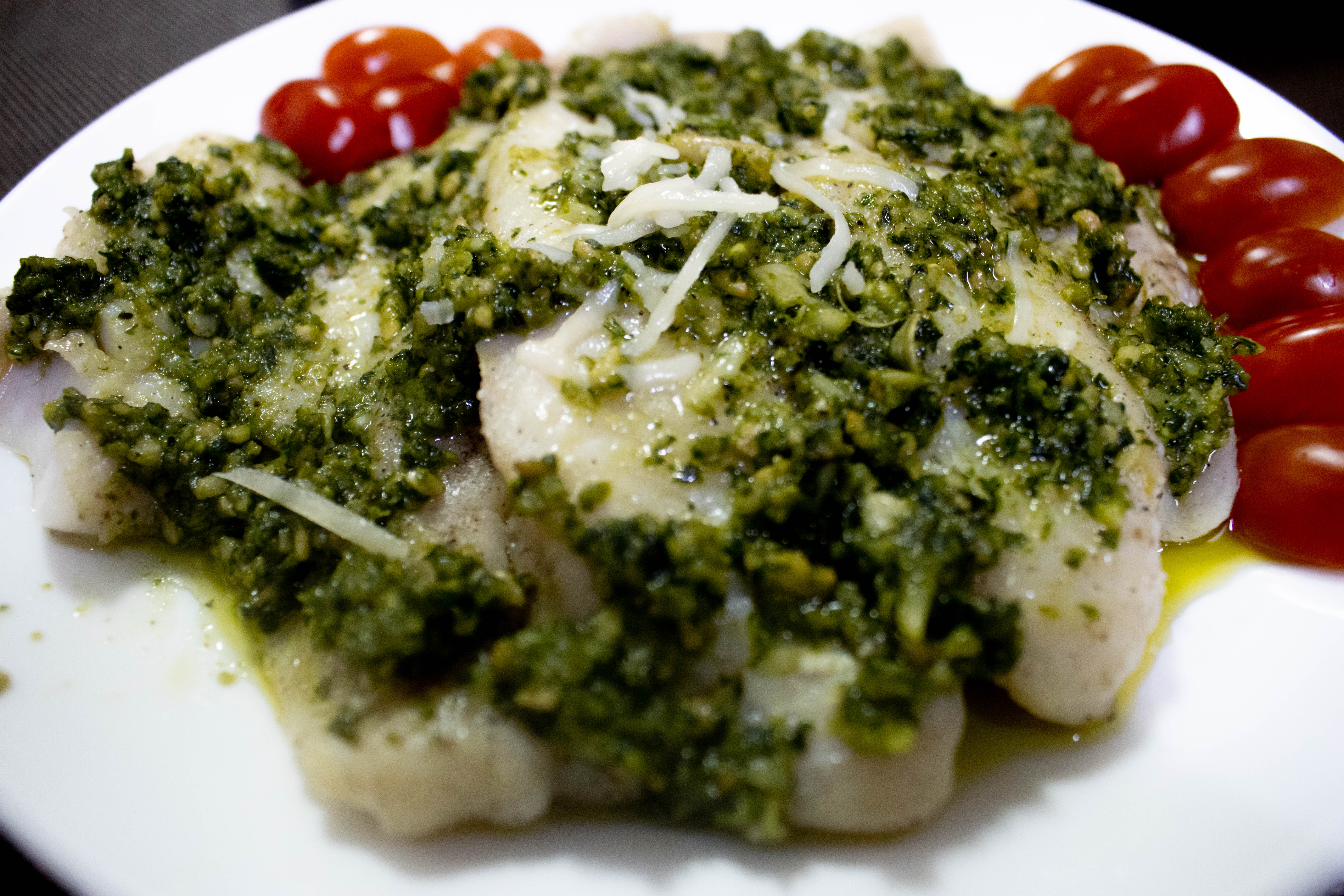 Fish Pesto Recipe:
What you need?
For Fish
2 Fish Fillet
Olive Oil (For cooking)
Pepper & Salt (For seasoning)
For Sauce
2-3 Tablespoon Sauce Lab's Basil Pesto (depends on the size of your fish)
1 Tablespoon of nutmeg
2 Cloves of Minced Garlic
1 Tablespoon of Shredded Parmesan Cheese (and more for garnishing)
Let's Start!
1. Season the fish with salt and pepper
2. Heat the pan with olive oil and cook the fish for 3-5 mins on both sides or till it is thoroughly cooked.
3. Mix all the sauce ingredients together and whisk it till it combines.
4. Plate your cooked fish and pour your sauce on top of your fish
5. Finish your meal with some Parmesan garnishing and your meal is served!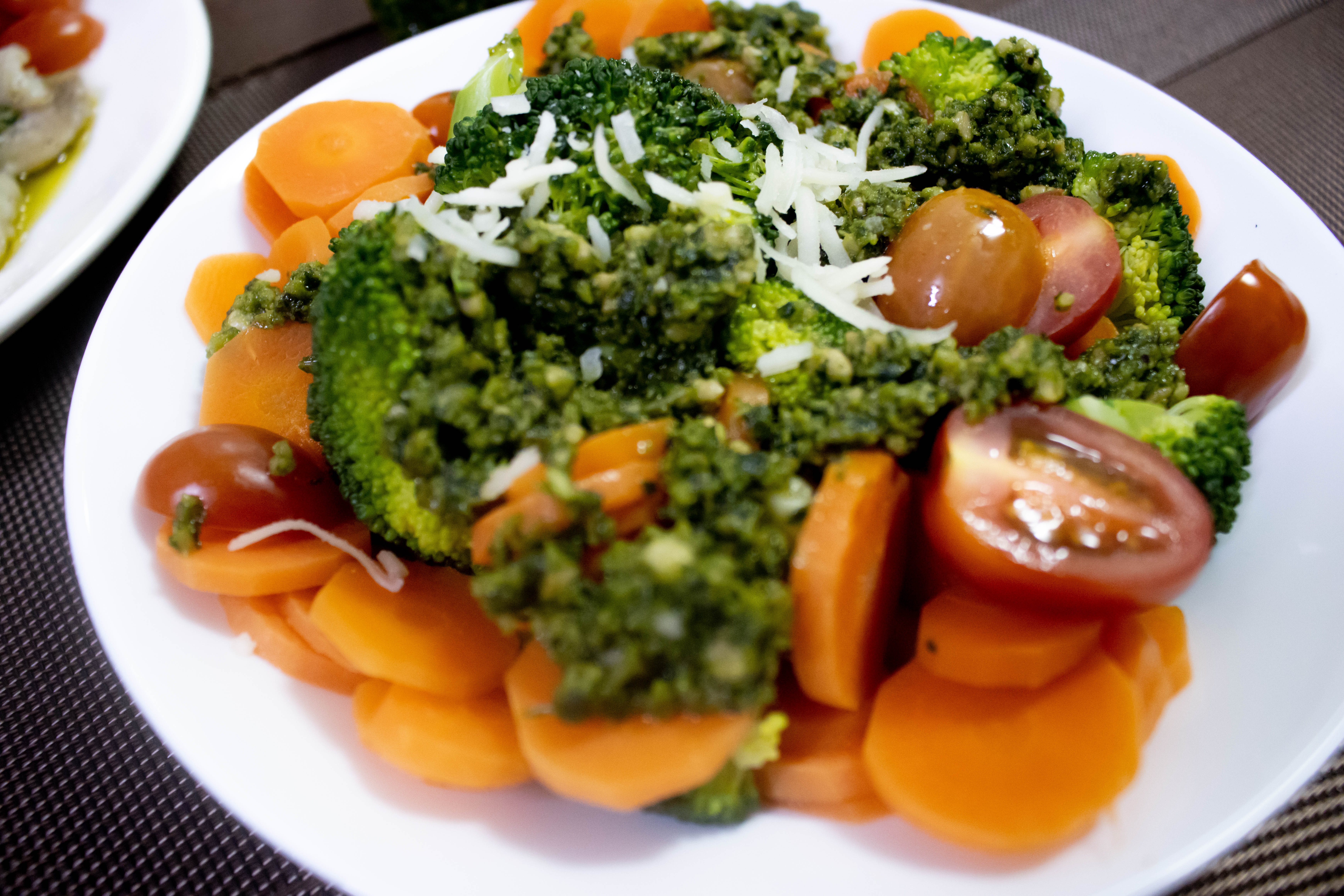 Vegetable Pesto Recipe:
What you need?
Broccoli/ Cauliflower, Carrots
⅓ Cup of Sauce Lab's Basil Pesto
Salt (For seasoning)
Shredded Parmesan Cheese (For Garnishing)
Let's start!
1. Boil a pot of water till it boils.
2. Place your Vegetables and boil them accordingly.
Carrots- 6 to 8 minutes
Broccoli/ Cauliflower - 15 to 22 minutes
3. Plate your vegetables and add basil pesto sauce
4. Finish your meal with Parmesan garnishing and your meal is ready to be served!
And that is the end of our Food-tober for this year. Look out for our social media and web for more content or update on our products. Till next time!!
---
For more content or update on our products, do check our social media platforms: