Normal Retail Price: RM 299.00
Best Buy: RM 159.00
---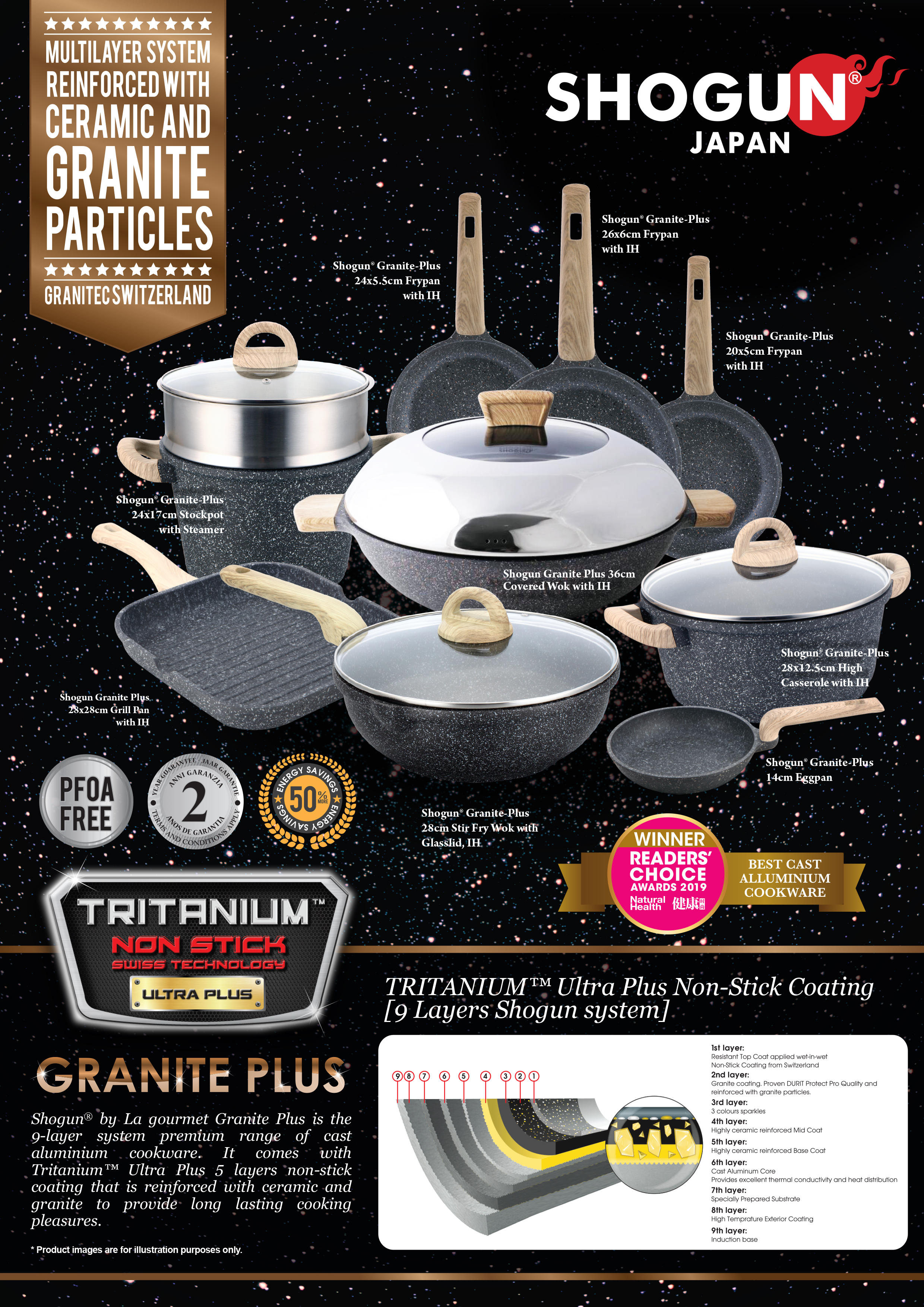 Shogun® introduces a Breakthrough technology in non-stick…….
A professional range that chefs recommend as "Must Have"
Shogun® Granite Plus is the 9-layer system premium range of cast aluminium cookware with Tritanium™ Ultra Plus 6 layers non-stick® coating that is reinforced with ceramic and granite.
SPECIFICATION
Body: The bottom is from 4 to 4.5mm thick gauge and the sides of the body is from 2mm to 3mm
Bottom: Cladded with polished induction bottom
Interior: Coated with Tritanium Ultra-Plus which is 6 layers non-stick coating that is reinforced with ceramic and granite from Switzerland
Exterior: Specially prepared subsrate on the cast alluminium core with high temperature coating and cladded with polished induction
A Cross Sectional View for 9 Layers Shogun® System:
1st Layer: Resistant Top Coat applied wet-in-wet non-stick coating from Switzerland
2nd Layer: Granitec Coating. Proven DURIT Protect Pro Quality and reinforced with granite particles
3rd Layer: 3 Colour Sparkles
4th Layer: Highly ceramic reinforced Mid Coat
5th Layer: Highly ceramic reinforced Base Coat
6th Layer: Cast Aluminium Core. Provides excellent thermal conductivity and heat distribution
7th Layer: Specially Prepared Substrate
8th Layer: High temperature exterior coating
9th Layer: Induction Base
Benefits
1. Long lasting - Tougher and durable professional non-stick coating
2. Safety - Tested and complies with all major International regulations for safe food contact use, USFDA, LFGF European standards.
3. Excellent heat conductivity and Energy Saving.
4. Stay cool handles and sturdy grips
5. Healthy cooking
6. Fast to cook, easy to clean
7. Cooks on all stove tops